3.1.3. Current controller PCB LED diodes
As in the previous PCB, the design of printed circuit board PWM controller for power LED diodes has been performed in a single layer. Its size (46.99 x 48.26 mm) is small when you consider that standard discrete components are used. Much of the surface is intended to house the sink to the PWM controller switched (power switching regulator diodes LEDs), because it is designed to work with LED diodes power up to 3A (LED 10W to 20W) .
If using a diode or LED lamp low power, less than 10W (LED 1W, 2W, 3W or 5W) is not necessary to use aluminum sink. With the use of dimmers for LED diodes SMD type and working at high frequency can be reduced plaque size significantly.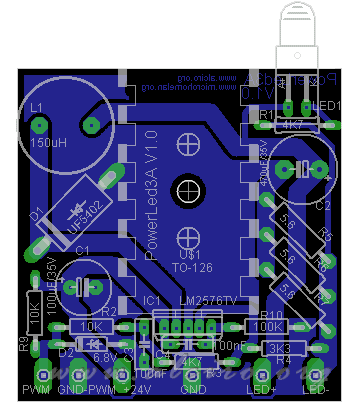 CIRCUIT printed board PWM controller LED diode, 3A PowerLed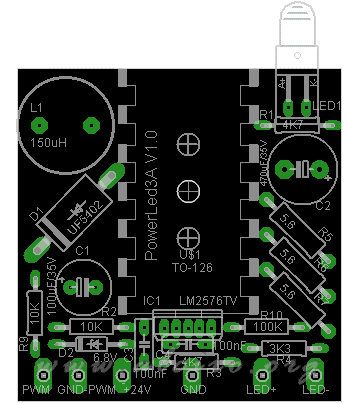 CIRCUIT printed board PWM controller LED diode, 3A PowerLed TOP
CIRCUIT printed board PWM controller LED diode, 3A PowerLed BOTTONE