2.1.4.1. Supply voltage of the plant automation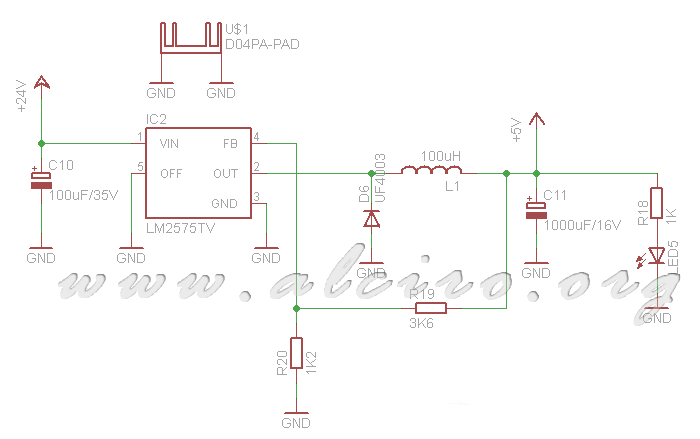 Circuit power plant automation
For power plant automation has opted for a switch mode power supply with a voltage regulator integrated circuit LM2575 (1A switching regulator.) You must use a switching power supply for a good energy efficiency (90%) in the home automation network. We used the LM2575 integrated since it has become a standard, low cost and easy to find.
To give more freedom to carry out the supply line, you can choose between two possible configurations:
1 ª With LM2575HV-ADJ. The circuit is shown in the figure with the resistors R19 = 3K6Ω (1%) and R20 = 1K2 Ω (1%).
Note: Failure to obtain 5V ± 5%, it has to adjust the resistance R19, changing or placing another in series or parallel to obtain a precise voltage.
2 nd With LM2575HV-5.0. You can opt for a regulatory circuit with fixed voltage to 5V, in this case no need for resistors R19 and R20, just do a bridge on the R19 and remove R20, as shown in following figure. This configuration is simpler than the first and has more safety and we ensure a voltage of 5V if risk of errors.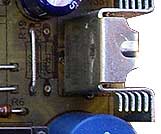 Bridges on the motherboard to power with a LM2575HV-5.0