2.1.4.2. Supply voltage of the power components
The 24V power supply in the plant automation is carried out through the X13 connector (24V_In). After this is done the power supply to power controller leds and automatic low voltage 24V.
Protecting drivers power diodes LEDs are made ​​by the fuse F1. To determine the value of the fuse F1 has to add the consumption of all drivers for the LED diodes. For example, if we have 4 active drivers with LED rated 1A, the maximum current is 4 amps, so you have to put a fuse from 4 to 5 amps.

It has a power output connector on the X14 (24V_Out) for the supply voltage of automatic low voltage (motors, sensors, electro-valves etc.). To protect the supply line of a short circuit is provided the fuse F2. The F2 fuse value depends on the consumption of automation that is controlled by X14. For example if it controls a solenoid valve that consumes 0.5A 1A fuse is sufficient. If you control a shutter motor 24V 100W, 4A consumption is and has to put a 5A fuse.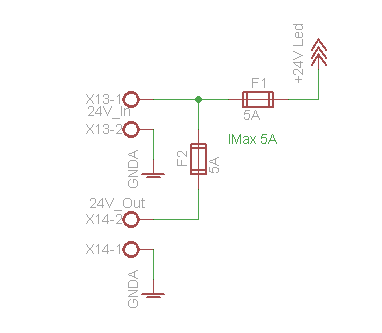 Food of the power components