Introduction to home automation network free microHomeLan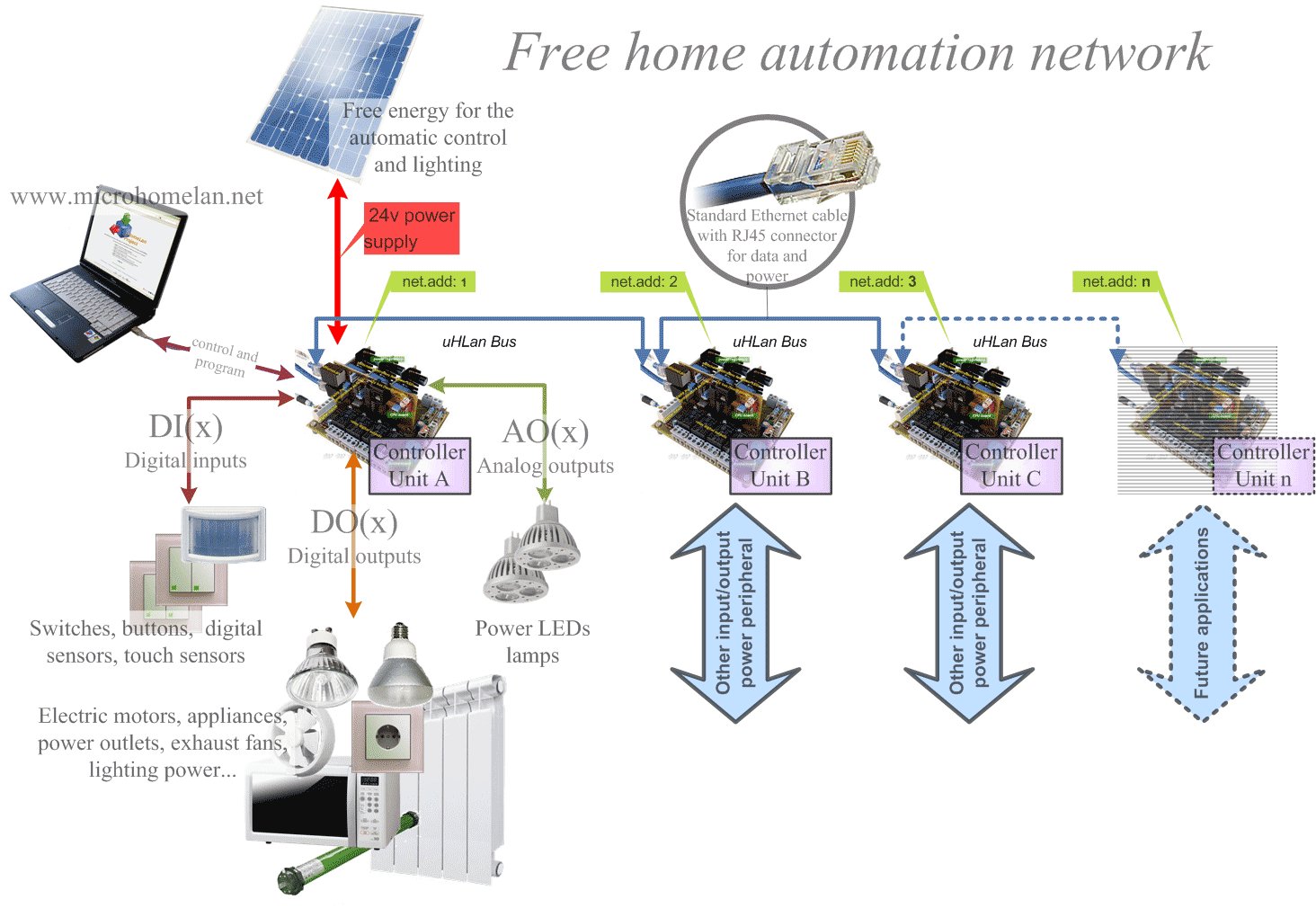 Network automation
Free first home automation network, designed under the economic policy automation. This project represents the beginning of the free home automation networks for the automation of homes and buildings.
Characteristics of the free home automation network for home automation centers microHoneLan.
Home automation network based on RS-485 standard.
Asynchronous UART communication of 8 bits.
UHLam protocol easy.
Protocol with collision detection and verification of transmissions.
Communication speed of 19200 bits per second (Baud).
Maximum working distance of 1200 meters (standard RS-845).
Network topology type BUS home automation.
Up to 32 units Uhlan (central home automation network by Bus).
Up to 253 units by Red Uhlan home automation, with expansion switch.
Programmable network address identifier Uhlan based unit of 1 to 254.
Network Cable UTP 4 pair 22 AWG standard.
RJ-45 connectors.
Low voltage of 24V.
Power supply via network cable (power over lan).
Home automation network with redundant power, fault-tolerant.
Firmware developed for the AVR microcontroller-8 and MCS-51.
Distributed computing (decentralized programming) in all units or central home automation Uhlan.
Direct programming via the network.
Software control and programming via PC.
Generation control program in an intuitive way through the Web ( μHomeLan ).
Uhlan units or central home automation modules, divided into motherboard, cpu and controllers or actuators.
PCB, printed circuit boards developed in a layer, to facilitate construction and minimize cost.